Artist Bio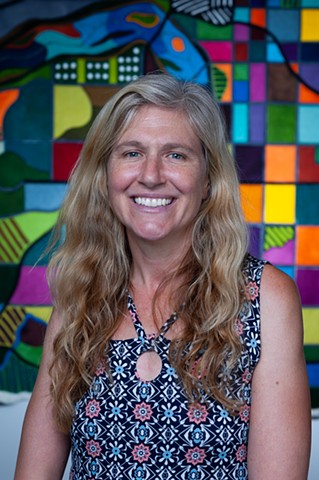 Taylor Painter-Wolfe is a fiber artist and arts educator from Tulsa, Oklahoma. She majored in fiber art at the Kansas City Art Institute where she first learned how to make and dye felted wool. After graduating with a Bachelor of Fine Art in 2003, Taylor traveled extensively in Australia and Southeast Asia which influenced her development as a fiber artist and inspired her to use elements of texture, shape, and pattern found in nature in her work.
She later attended The University of Washington and received a Master of Education in early childhood special education. In 2011, she returned to Tulsa where she has taught special education, preschool, and art in Tulsa Public Schools.
Taylor now divides her time between making and showing her work and teaching art classes to children and adults through various arts organizations and schools throughout Oklahoma. She creates abstract landscapes made of felted wool using traditional fiber art techniques. Her work is inspired by aerial photographs, satellite images, and her own photography of natural environments.
Some of Taylor's notable exhibitions and projects are, "Don't Look Down," a 2017 solo exhibition at The Kansas City Artist Coalition, "Green Country Air," a 2018 year-long installation at the Tulsa International Airport, in 2019 she was chosen as the Holland Hall ARTworks artist, and as the designer and creator of the 2021 Winter Festival pin for The Philbrook Museum of Art. In 2022 she received a Tulsa Creates Together grant through Living Arts Tulsa, and in 2023 she has had a solo exhibition at Liggett Studios in Tulsa and an installation at the Oklahoma State Capitol in Oklahoma City.